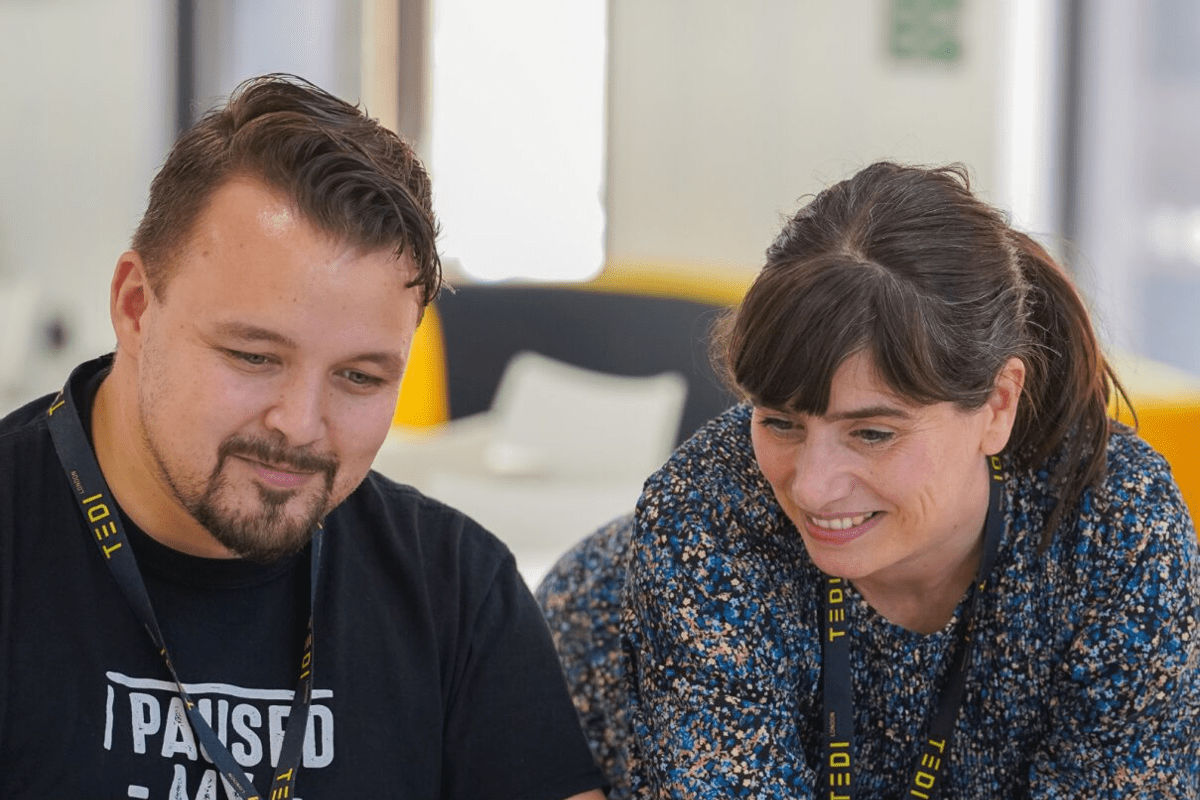 Our story
We are TEDI-London. An innovative new higher education provider in London, solely focused on engineering and design. Co-founded by Arizona State University, King's College London, and UNSW Sydney, we exist to transform engineering education, and to transform the lives of our students and the users of the products they design and make.
We are not your typical higher education organisation. Our team is made up of passionate individuals who approach their work with unwavering dedication and a commitment to pushing the boundaries of engineering education. At TEDI-London, every team member plays an integral role in shaping our operations and contributing to our unique approach.
While our physical base is located in the vibrant and easily accessible area of Canada Water in South East London, we embrace a flexible working culture. Our agile working philosophy is rooted in the belief that decisions regarding where and how we work are driven by our unwavering commitment to providing an exceptional student experience. We trust our team members to make the best choices for TEDI-London's success and future growth.
To thrive at TEDI-London, it is essential that you share our values, possess a strong focus on high performance, and are genuinely enthused about being part of a new institute that is on a mission to revolutionise engineering education and make a lasting impact on the world.
Our perks & benefits
💻 35-hour working week

🕐 Agile working hours

The student experience is at the heart of what we do so naturally some roles are on campus more than others. We value work-life balance highly, therefore we have agile working hours based on trust and mutual accountability.

🏄🏻‍♀️ 28 days paid holiday

We value your time. You also have the ability to buy 10 additional days or sell 5 🌞

💻 1 Professional Membership paid for per person

Our students are Professionals-in-training so it is important to us that our staff role model professional traits and stay at the top of their field.

🦄 5 working days CSR in line with TEDI-London overarching objectives

🎓 10 development days a year

🧠 Access to mental health support through MyMynd

In addition, 6 hourly sessions with a trained Counsellor for free.

🍇 Paid time off for dental & medical appointments

🎯 Regular social events

We have a social committee who plan quizzes, social events and dinners all year round.

💰 Contributory, Salary Sacrifice Pension Scheme – Employer Contribution up to 10%

⛑ Health Cash Plan with Westfield Health (Opt-In Required)

A health cash plan allows you to claim money back, up to set limits, towards the cost of your essential healthcare, as well as providing access to valuable health and wellbeing services.

You can rest assured that your cover will help with your bills, so it's a great way to help you budget for your everyday health costs. You can choose from five levels of cover to find a price to suit your budget.

Any dependent children are covered on key benefits at no extra cost, giving you that extra peace of mind.

🙏 Life Assurance at 4 x annual salary

The purpose of life assurance is to make financial provision for your dependants should you die while in employment. The policy generally pays a one-off sum of money to a beneficiary, or beneficiaries, named by you.

🛍️ Perks at Work

Access to 30,000+ national & local employee discounts
Workplace, Culture & Diversity
At TEDI-London the nature of what we deliver is underpinned by equality, diversity and inclusion. As a new institute we are disruptive in both our pedagogy and employment approach and know it is vital that we embrace different ideas, views and perspectives across our student and staff community.
We commit to ensuring that all individuals are treated equitably, regardless of gender, race or ethnicity, socio-economic background, disability, religion or belief, sexual orientation, gender reassignment, marital status, pregnancy or maternity, or any other distinction. Simply put, we want to be a place where people feel comfortable being themselves.
Hear from our team
It's so motivating to work in such an innovative organisation, where every individual is passionate about what they are doing and new ideas are celebrated. Collaboration is woven into everything we do and it is an excellent opportunity to work as one towards an end goal. I've never worked with such a great bunch of people who are happy to share their expertise and help one another.

Briony Black

Assistant Registrar Student Experience

At TEDI-London, as a non-British team member, I felt welcomed and supported from day one. TEDI-London's commitment to flexibility empowers me to bring my best self to work, whether I'm in the office or working remotely. While I'm genuinely passionate about the work I do, what truly makes TEDI-London special is the incredible people and nurturing environment. TEDI-London's open office structure erases traditional hierarchies, allowing us to be friends with everyone, including our CEO. This exemplifies the company's progressive and inclusive values.

Pratistha Poudel

Content Producer
Our Values
Inclusive

We respect each other and treat others with consideration and dignity
We have a strong ethos of sharing, consultation and engaging with different perspectives
We are comfortable to be ourselves
We ensure diversity and inclusion is integral to everything we do
We embrace agile working and utilize technology to do so

Courageous

We are bold and have the confidence to try new things, knowing we will be supported
We do not blame each other, even in difficult times
We actively seek out people who think and work in diverse ways, playing to their strengths
We strive for minimal, viable bureaucracy
We challenge ourselves to continuously improve
We feel a strong responsibility to the wider community in which we operate

Collaborative

We develop great internal and external relationships
We are a team and value the power of truly working together
We are driven by our shared vision; unlimited by geographical, functional or self-interest

With Integrity

We are authentic and our behaviours reflect this
We act in an ethical way, avoiding conflict of interest and financial or other material benefits to ourselves
We are honest, open and truthful
We embrace two-way feedback
We make sound and considered decisions, using our professional judgment
We assume good intent from others in all that we do
We do what we say we will do
We demonstrate both academic and personal integrity

Inspiring

We have a clear, compelling and shared vision for our future
Our physical environment, culture and curriculum push boundaries
Individuals are recognised for their contribution
We challenge assumptions
June 2019
TEDI-London is incorporated as an independent institution, co-founded by Arizona State University, King's College London and UNSW Sydney. Registered at Companies House 💼
After a period of consultation with the team (now standing at 12) the TEDI-London values were agreed: Inclusive Collaborative Inspiring Courageous With Integrity 📖
November 2019
2nd January 2020
We developed our proposition as an employer so that each new employee can be part of shaping our culture, our values and our future as an organisation. We were already clear though – all our employees are of equal value and status, whatever role they carry out. Our 'single status' terms and conditions have been developed to reflect these aspirations.
TEDI-London hosts official launch at iconic Tower Bridge
Tuesday 10th March 2020
September 2021
TEDI-London's first cohort 🚀
TEDI-London achieves Office for Students registration
January 2021
June 2021
TEDI-London is granted degree-awarding powers
TEDI-London's second cohort 🛠️
September 2022
2023
Still going strong ☕
About The Engineering & Design Institute London